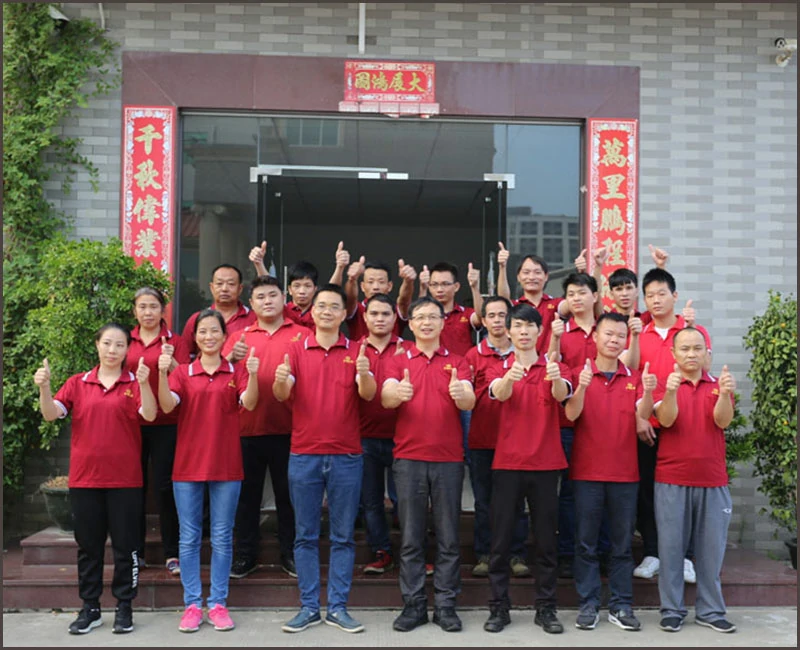 BE-CU rapid prototyping Co., Limited was founded in 1995, with a registered capital of 3 million, and now has more than 500 employees. We are one of the China best CNC machining companies, specialize in low cost aluminum cnc machining parts manufacturing. The products are mainly used in medical, electronic, aerospace, mechanical, communication, toys, intelligent equipment and other industries.
We have invested a lot quality and production environments. In 2015, We passed the quality system review of SGS Company and got the first "ISO9001:2015" certificate. In 2016, we passed the ITAF 16949 system review of automotive certification Company. Be-cu rapid prototyping company has carefully implemented each regulation in management details in accordance with ISO, and fully guaranteed the CNC machining product quality and customer satisfaction.
---
We started helping people cnc machining aluminum parts and products in 1995. As our reputation and customer base has grown so has our range of services. We are now one of the only companies in the world to offer such a massive range of aluminum machining and bespoke mass volume aluminum parts solutions all under one roof. Our high tech rapid prototyping and production facilities include cnc milling,cnc turning, swiss machining,5 axis machining and aluminum extrusion as well as traditional dies making and a range of finishing techniques.
 China Leading Aluminum Cnc Machining Production Facilities
---
Dongguan Be-cu Prototype Co., Ltd is mainly specialized in aluminum cnc machining and aluminum extrusion,etc.,.
| | | | | | |
| --- | --- | --- | --- | --- | --- |
| NAME | Cnc Milling Machine | Cnc Turning Machine | 5 Axis Machine | Swiss Machine | Turn-Mill Machine |
| SET | 70 | 30 | 2 | 20 | 1 |
| EST CAPACITY/ MONTH | 25K | 30K | 2K | 30K | 1K |
TOTAL QTY: 121 SETS          TOTAL CAPACITY/MONTH:88K
Be-cu has vertical, horizontal, 3 axis, 4 axis and 5 axis CNC machines with tolerances of ± .0001 in and ±.005 mm, which can be used to manufacture the custom aluminum parts. We also have other services such as grinding, milling, turning, trimming, drilling, deburring, tapping, threading, sand blasting, polishing, vibratory finishing, pressure testing, washing and assembly. Be-cu's heat treatment include T4, T5, T6 and T7, which allows weldability, glue joining, rivet and low porosity shapes.
In order to meet the requirement of customer's specifications and avoid any quality problem when products have arrived at the customer's side, we will use many different kinds of measuring machines and tools to check them in our aluminum machining process. Focusing on cnc machining parts quality control for each project, We confirm each client receives the desired product.Be-cu has presicion measuring equipment including ZEISS CMM,pin gauges,roughness,projector and micrometer,concentricity measurement etc.,
We can accept to sign NDA agreement, And Real-time ISO 9001:2015 and ITAF 16949 certificate check please consult our sales.To ask about a specific capability or machine-related specification, contact us for full particulars from a Be-cu customer service representative.
Cnc Machining Equipment List In Be-cu prototype company
NAME
TYPE
MAKE
MODEL
SIZE
850 CNC Milling True 4th-Axis(12 sets)
CNC EQUIPMENT
Mitsubishi
MB850
800*600*500,40 Taper
770 CNC Engraving(3 sets)
CNC EQUIPMENT
Mitsubishi
MB770
800*600*500,50 Taper
T5CNC Milling Machine(11 sets)
CNC EQUIPMENT
Mitsubishi
NVT5
1200*800*600,50 Taper
4500 Big CNC Milling(2 sets)
CNC EQUIPMENT
Taiwan
4500H
10000*1000*600,50 Taper
2500 Big CNC Milling(5 sets)
CNC EQUIPMENT
Taiwan
NV2500
5000*800*500
430 CNC Engraving(8 sets)
CNC EQUIPMENT
Mitsubishi
FA 430
500*300*300,40 Taper
550 CNC Engraving with 4th Axis(4 sets)
CNC EQUIPMENT
Mitsubishi
CMX550
600*400*300,40 Taper
1166 CNC Milling Machine(4 sets)
CNC EQUIPMENT
Taiwan
VMC1166
22''lx16''D'',40 Taper
855 CNC Milling Machine(5 sets)
CNC EQUIPMENT
Taiwan
NV855
800*600*500,50 Taper
650 CNC Milling Machine(4 sets)
CNC EQUIPMENT
Taiwan
EMC650
600*400*300,40 Taper
650 CNC Milling and true 4th-Axis(3 sets)
CNC EQUIPMENT
Taiwan
MB650
600*400*300,40 Taper
CNC Turning Machine Center(6 sets)
CNC EQUIPMENT
Hitachi
40G- 15''
Up to 24''Swing,43''
Length 4 1/ 2''Bar Capacity
46 Taiwan CNC Lathe(7 sets) and 46 Switzerland lathe (5 sets)
CNC EQUIPMENT
Switzerland
Diameter is 46
46',40 Taper
36 Taiwan CNC Lathe(7 sets) and 20 Japan Lathe(5 sets)
CNC EQUIPMENT
Japan
Diameter is 36
36',40 Taper
25 Automatic lathe(20 sets)
CNC EQUIPMENT
Taiwan
MB25
25,40 Taper
Mazak Five-axis CNC lathe(1 set) and Mitsubishi Five-axis CNC lathe(2 sets)
CNC EQUIPMENT
Mazak
VF-6/50TR
7,500 rpm (47,124 rad.min-1)
Drilling device
SPECIAL MACHINE FOR DRILLING AND TAPPING TEECH
Taiwan
M60(6 sets)
M1-M80
 Cnc Turning Lathe
46
Zexincnc
/
/
 Cnc Turning Lathe
46
Difen
/
/
Cnc Turning Lathe
46
Achmick
/
/
Cnc Turning Lathe
36
Zexincnc
/
/
Auto Lathe
1525
MYLAS
/
/
 Cnc Turning Lathe
20
Bysk
/
/
Cnc Turning Lathe
15
Bysk
/
/
Cnc Turning Lathe
20
MUCUN
/
/
Cnc Turning Lathe
76
Siemens
/
/
 Cnc Turning Lathe
75
Siemens
/
/
5 Axis Longitudinal Lathes
265
Tsugami
/
/
Swiss Machining Lathe
206
Tsugami
/
/
4 Axis Turning Lathe
/
/
/
/
Instrument lathe
/
/
/
/
Type lathe
DENCH TYPE LATHE
Taiwan
25
25
Precision grinder
GRINDING MACHINES
Taiwan
T4(6 sets)
1200*800*600
6030 Water grinder
GRINDING MACHINES
Taiwan
6030(2 sets)
3000*1000*300
8040 Water grinder
GRINDING MACHINES
Taiwan
8040(2 sets)
5000*1500*600
6m Aluminum Profile CNC Machining Center
 HACHI-CNC
/
20
/
8m Aluminum Profile CNC Machining Center
 HACHI-CNC
/
16
/
12m Aluminum Profile CNC Machining Center
HACHI-CNC
/
4
/
High-Speed Drilling And Tapping Machine
/
/
/
/
3600T positive and negative extruder
/
/
/
/
3200T Reverse Double Action Extruder
/
/
/
/
10000T Reverse Double Action Extruder
/
/
/
/
Air compressor
/
/
/
/
Automatic spraying line
/
/
/
/
Spray cabinet
/
/
/
/