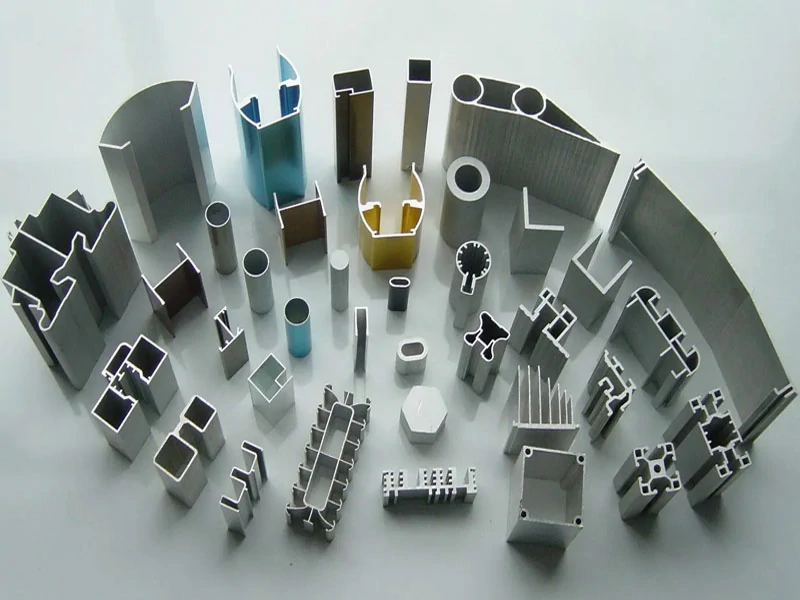 Aluminum extrusion is the process of aluminum forming. The aluminum extrusion process uses the original form of aluminum, which is called aluminum billet of aluminum ingot.aluminum ingot are hot-melted and extruded to obtain aluminum materials with different cross-sectional shapes, but the proportions of the added alloys are different. Fields are also different. First design and manufacture a mold according to the section of the profile product, and use an extruder to extrude the heated round cast rod from the mold. The commonly used grade 6063、6060、6005、6061、6082、2024、3003、5052、7003、7075 alloy also uses an air-cooling quenching process and subsequent artificial aging process to complete the heat treatment strengthening during extrusion. Different grades of heat treatable strengthening alloys have different heat treatment systems.
Aluminum extrusions are widely used due to their high strength, lightweight, and good conductivity.Fields of application Generally speaking, industrial aluminum profiles refer to all aluminum profiles except for building doors and windows,spare parts , curtain walls, interior and exterior decoration and aluminum profiles for building structures.
Aluminum Extrusion Profile Services – Aluminum Extrusion Company In China
---
As a professional aluminum extrusion company, with years of continuous efforts and development, we are actively producing and selling aluminum extrusion and aluminium profile. We mainly produce customized aluminum extrusion profiles, aluminum tubes, aluminum heatsinks, slotted aluminum extrusion, etc. A new extrusion factory with modern production lines was established in 2007. We have complete coating production lines for different surface finishing. Once you selected us, our engineers will start with understanding your demands, select the aluminum extrusion design suits the application, figure out the aluminum extrusion shapes, dimensions, specifications, tolerances, and all of the details before production. We have accomplished operators in the workshop to execute each operation in a correct way to ensure the products meet or exceed international standards and customer expectations. Our advantages:
Our largest aluminum extrusion production line, 9,000T aluminum extruder enable us to produce any aluminum profile with its section within 700*150mm and φ550mm.
We are ISO9001:2015 certified manfuactory with nearly 20 years' experience in field of aluminum extrusion production & aluminum production deep proccessing.
Totally 12 aluminum extrusion production lines and annual production capacity of 50,000 tons enable us to make quick prodution & prompt delivery.
Strong R&D team, fast extrusion die making: 3–5 days for small section extrusion dies; 5–10 days for large section extrusion dies.
Strict quality control: all our finished products will be inspected before packing & cargo loading.
ODM/OEM service is provided.
Low cost through our economy of scale, and never compromise in quality.
We can provide extra value-added fabrication and machining services: bending aluminum, milling aluminum, bending aluminum tubing, cutting to a certain length, square hole punch, round hole punch, laser engraving, CNC cutting, and more. These fabricated aluminum components will be beneficial for your products and projects. Aluminum battens, baffle ceilings, trailer toolbox, and other aluminum products for architectural decoration also can be produced in our fabrication factory with a complete production line. Aluminum extrusion profile is a major prototyping service at BE-CU, offering industry-leading standards and fast turnaround,we are able to bring your concept or idea to the market in a cost and time-saving way.. If you are willing to work with us or want to know more details, welcome to contact us via email.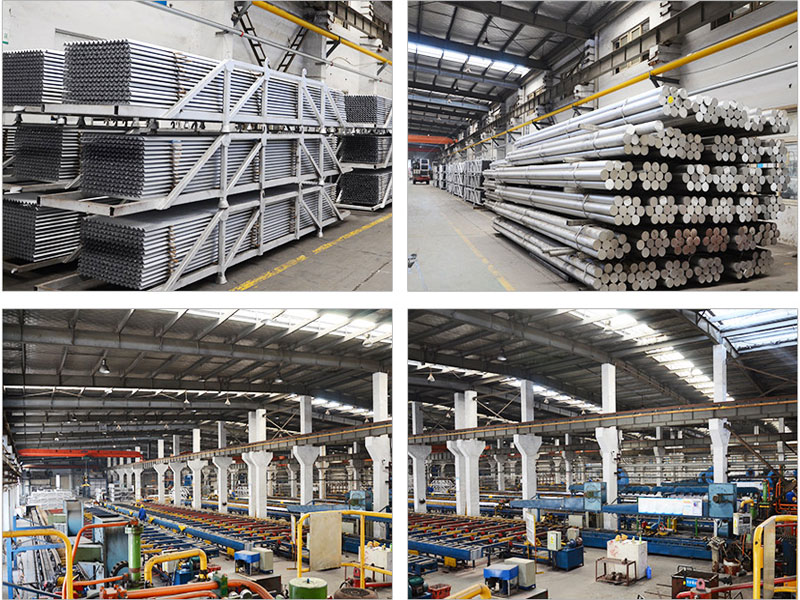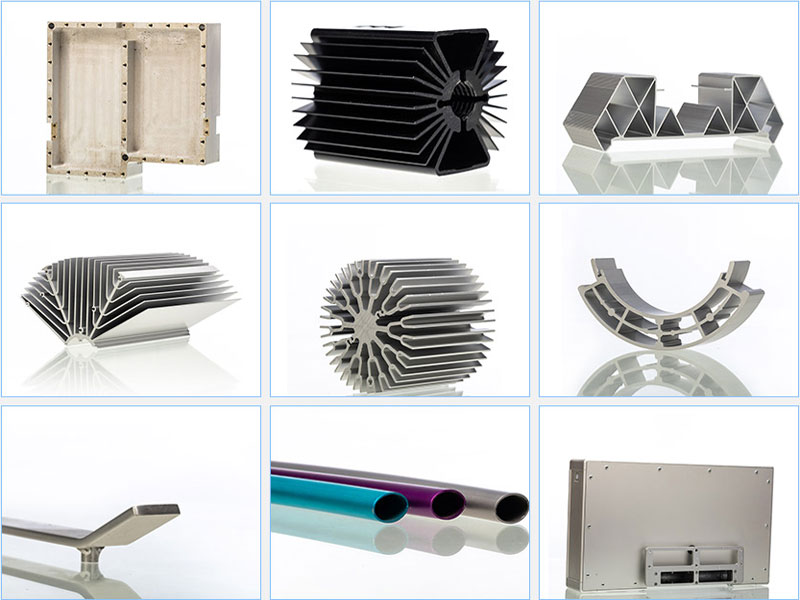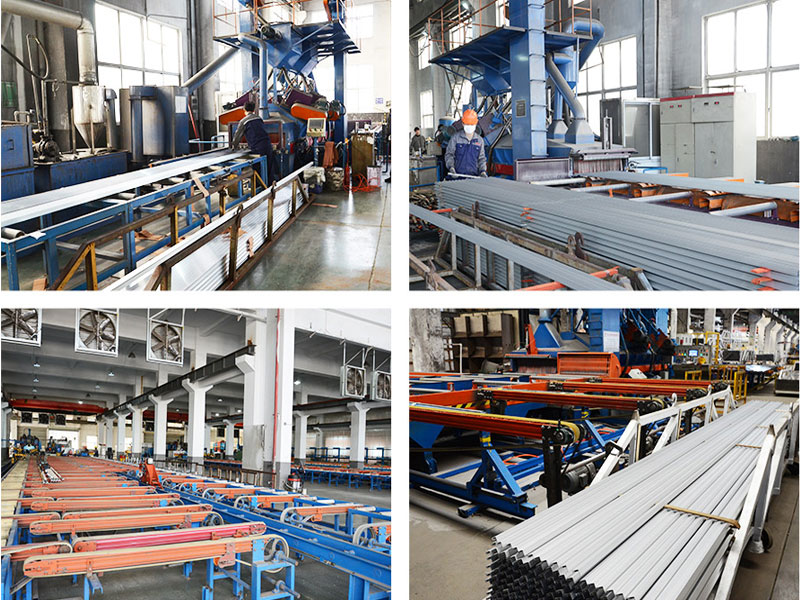 The Characteristics Of Aluminum Profiles After Various Surface Treatment
---
Frosted fabric aluminum profile: Frosted aluminum profile avoids the disadvantage that bright aluminum alloy profiles will cause light interference in certain environments and conditions in architectural decoration. Its surface is as delicate and soft as brocade, which is very popular in the market. However, the existing frosted materials must overcome the uneven surface sand grains, and can see the lack of mold patterns.
Multi-tone surface-treated aluminum profiles: monotonous silver white and brown can no longer meet the architects' good cooperation with exterior wall decorative tiles and exterior wall latex, new stainless steel, champagne, golden, titanium, red series ( Wine red, burgundy, black, purple), etc. and stained glass can make the decorative effect even better. These profiles must be chemically or mechanically polished and then oxidized to achieve good results.
Electrophoretic painted aluminum profiles: The surface of the electrophoretic painted profiles is soft and can resist the erosion of cement and mortar acid rain. 90% of the aluminum profiles in Japan are electrophoretic painted.
Powder electrostatic spraying aluminum profiles: powder electrostatic spraying profiles are characterized by excellent corrosion resistance, acid and alkali salt spray resistance is much better than oxidation coloring profiles.
Plasma Enhanced Electrochemical Surface Ceramicized Aluminum Profile: This type of profile is the most advanced processing technology in the world today. This profile product is of good quality, but the cost is high. It has more than 20 kinds of colors, and its biggest feature is that it can be colored like a printed cloth according to the needs, the surface of the profile is colorful, and the decorative effect is excellent.
There are different types of aluminum extruded products. You have simple ones and those that are complex and will require additional processing after extrusion. Simple ones are turned into complex structures through machining and fabrication.
Machining allows you to cut these hard aluminium products into simpler parts. Once that's done, fabrication facilitates joining the parts into complicated final product.
Aluminum passes through different stages during machining and fabrication. Some of them include countersinking, laser cutting, laser etching, deburring, drilling, tapping, knurling and CNC milling. Once mechanical joints have been put together, welding is also done. This helps bond joints to come up with delicate and more complex structures.
Through machining and fabrication, strengthening is done and better products are manufactured. Such products are used in construction for support considering they're strong enough to handle the pressure.
From quality to service, strict requirements and high standards help us gain a good reputation among worldwide clients. Our aluminum extrusion profiles are commonly used in the consumer electronics and construction industry, such as frames of doors and windows, also serve for automotive, trains, ships, medical devices, etc.
Select high-quality raw materials: aluminum rods are made of aluminum ingots by melting and casting, which are called industrial aluminum profile raw materials; and raw materials will directly affect the performance of industrial aluminum profiles.
Temperature-controlled heating of aluminum rods: too high or too low temperature will directly affect the hardness of the final product, so the temperature must be strictly controlled during the heating and cooling process;
Design profile molds: The molds are designed with high-precision specifications according to requirements, and are used to extrude profile products of required specifications and cross-sections;
Extrusion of industrial aluminum profiles: At present, the standard extrusion press used for 6063-T5 industrial aluminum profiles is between 1300 tons and 1600 tons, which can meet the normal production of 6063-T5 series industrial aluminum profiles.
Profile straightening correction: There will be a certain deviation after extrusion of industrial aluminum profiles. After forming, a straightening machine should be used for straightening correction.
Artificial aging: Generally speaking, the aluminum profiles produced by extrusion must be aged to improve the strength.
1050 Extrusion Coils for Food, Chemical and Brewing Industries, Various Hoses, Fireworks Powder
1060 requires high corrosion resistance and formability, but does not require high strength. Chemical equipment is its typical use.
1100 is used for processing parts that require good formability and high corrosion resistance but do not require high strength, such as chemical products, food industry equipment and storage containers, sheet metal processing, deep drawing or spinning concave vessels, Welded parts, heat exchangers, printed boards, nameplates, reflectors
1145 Packaging and Insulating Aluminum Foil, Heat Exchanger
1199 Electrolytic Capacitor Foil, Optical Reflective Film
1350 wire, conductive stranded wire, busbar, transformer strip
2011 Screws and machined products requiring good cutting performance
2014 is used in applications requiring high strength and hardness (including high temperature). Aircraft heavy duty, forgings, plate and extruded materials, wheels and structural elements, multistage rocket first stage fuel tanks and spacecraft parts, truck frames and suspension system parts
2017 is the first 2XXX series alloy to obtain industrial applications, with a narrow range of applications, mainly rivets, general mechanical parts, structural and transportation structural parts, propellers and accessories
2024 Aircraft structures, rivets, missile components, truck hubs, propeller elements and various other structures
2036 Auto Body Sheet Metal Parts
2048 Aerospace Structural Parts and Weapon Structural Parts
2124 Aerospace Structural Parts
2218 Aircraft Engine and Diesel Engine Pistons, Aircraft Engine Cylinder Heads, Jet Engine Impellers and Compressor Rings
2219 aerospace rocket welding oxidant tank, supersonic aircraft skin and structural parts, the working temperature is -270~300 degrees Celsius. Good weldability, high fracture toughness, high resistance to stress corrosion cracking in T8 state
2319 Soldering Rod and Filler Solder for Alloy 2219
2618 die forgings and free forgings. Piston and Aero Engine Parts
2A01 Structural rivets with working temperature less than or equal to 100 degrees Celsius
2A02 Axial compressor blade of turbojet engine with working temperature of 200~300 degrees Celsius
2A06 Aircraft structure with a working temperature of 150~250 degrees Celsius and aircraft structure rivets with a working temperature of 125~250 degrees Celsius
The strength of 2A10 is higher than that of 2A01 alloy, and the manufacturing temperature is less than or equal to 100 degrees Celsius for aircraft structural rivets
Medium-strength structural parts for 2A11 aircraft, propeller blades, transportation vehicles and building structural parts.
2A12 Aircraft skins, bulkheads, ribs, spars, rivets, etc., structural parts for construction and transportation
2A14 Free forgings and die forgings with complex shapes
2A16 Spacecraft parts with a working temperature of 250~300 degrees Celsius, welding containers and airtight cockpits working at room temperature and high temperature
2A17 Aircraft parts with a working temperature of 225~250 degrees Celsius
2A50 Medium-strength parts with complex shapes
2A60 Aircraft engine compressor wheel, wind guide wheel, fan, impeller, etc.
2A70 aircraft skin, aircraft engine piston, wind guide wheel, roulette, etc.
2A80 Aero-engine compressor blades, impellers, pistons, expanding rings and other parts with high working temperature
2A90 Aero Engine Piston
3003 is used for processing parts that require good formability, high corrosion resistance, good weldability, or work that requires both these properties and higher strength than 1XXX series alloys, such as kitchenware, food and chemical product processing and storage devices, tanks and tanks for transporting liquid products, various pressure vessels and pipes processed from thin plates
3004 all-aluminum pop-top can body requires parts with higher strength than 3003 alloy, chemical product production and storage devices, sheet metal processing parts, construction processing parts, construction tools, various lamp parts
3105 Room partitions, baffles, movable room panels, gutters and downpipes, sheet metal forming parts, bottle caps, bottle stoppers, etc. 3A21 aircraft fuel tanks, oil conduits, rivet wires, etc.; industrial equipment such as building materials and food, etc.
5005 is similar to 3003 alloy, with moderate strength and good corrosion resistance. Used as conductors, cookware, instrument panels, shells and architectural trim. The anodized film is brighter than the oxide film on the 3003 alloy and harmonizes with the tint of the 6063 alloy
5050 sheet can be used as the inner lining of refrigerators and refrigerators, automobile gas pipes, oil pipes and agricultural irrigation pipes; it can also be processed into thick plates, pipes, bars, special-shaped materials and wires, etc.
5052 This alloy has good formability, corrosion resistance, candleability, fatigue strength and moderate static strength. It is used in the manufacture of aircraft fuel tanks, fuel pipes, and sheet metal parts for transportation vehicles and ships, instruments, street lamp brackets and rivets , hardware products, etc.
5056 magnesium alloy and cable sheath rivets, zippers, nails, etc.; aluminum-coated wire is widely used in processing agricultural insect trap covers and other occasions where high corrosion resistance is required
5083 is used in occasions requiring high corrosion resistance, good weldability and medium strength, such as welding parts of ships, automobiles and aircraft panels; pressure vessels, refrigeration installations, TV towers, drilling equipment, transportation that require strict fire protection Transport equipment, missile elements, armor, etc.
5086 is used in occasions requiring high corrosion resistance, good weldability and medium strength, such as ships, automobiles, aircraft, cryogenic equipment, TV towers, drilling equipment, transportation equipment, missile parts and decks, etc.
5154 Welded structures, storage tanks, pressure vessels, ship structures and offshore installations, transport tanks
5182 sheet is used for processing can lids, auto body panels, steering panels, reinforcements, brackets and other parts
5252 is used to manufacture decorative parts with high strength, such as decorative parts for automobiles. Bright and transparent oxide film after anodization
5254 Containers for hydrogen peroxide and other chemical products
5356 Welding aluminum-magnesium alloy electrodes and wires with magnesium content greater than 3%
5454 Welded Structures, Pressure Vessels, Offshore Pipelines
5456 Armor plates, high-strength welded structures, storage tanks, pressure vessels, marine materials
5457 Polished and anodized trim parts for automobiles and other equipment
5652 Storage containers for hydrogen peroxide and other chemical products
5657 Decorative parts for automobiles and other equipment, polished and anodized, but in any case it must be ensured that the material has a fine grain structure
5A02 Aircraft fuel tanks and conduits, welding wires, rivets, marine structural parts
5A03 medium strength welded structure, cold stamped parts, welding vessel, welding wire, can be used to replace 5A02 alloy
5A05 Welded structural parts, aircraft skin skeleton
5A06 Welded structure, cold die forging parts, welded tension container stress parts, aircraft skin bone parts 5A12 Welded structural parts, bulletproof deck
6005 extruded profiles and pipes are used for structural parts requiring higher strength than 6063 alloy, such as ladders, TV antennas, etc.
6009 Auto Body Panel
6010 Sheet: Automotive Body
6061 requires various industrial structures with certain strength, high weldability and high corrosion resistance, such as pipes, rods, shaped materials, plate
6063 Industrial profiles, building profiles, irrigation pipes and extruded materials for vehicles, benches, furniture, fences, etc.
6066 Forgings and Welded Structural Extrusions
6070 Extruded materials and tubes for heavy duty welded structures and the automotive industry
6101 High-strength rods, electrical conductors and radiator materials for buses
6151 is used for die forging crankshaft parts, machine parts and production rolling rings, which are required to have good forgeability, high strength and good corrosion resistance.
6201 High Strength Conductive Bars and Wires
6205 Thick Plate, Pedals and High Impact Extrusions
6262 Threaded high stress parts requiring corrosion resistance better than 2011 and 2017 alloys 6351 Extruded structural parts of vehicles, pipelines for water, oil, etc.
6463 Architectural and various appliance profiles, and automotive trim parts with a bright surface after anodizing
6A02 Aircraft engine parts, forgings and die forgings with complex shapes
7005 extruded material for the manufacture of welded structures with both high strength and fracture toughness, such as trusses, rods, and vessels for transportation vehicles; large heat exchangers, and those that cannot be solid-fused after welding components; also used in the manufacture of sports equipment such as tennis rackets and softball bats
7039 Refrigeration containers, cryogenic equipment and storage tanks, fire pressure equipment, military equipment, armor plates, missile installations
7049 is used for forging parts that have the same static strength as 7079-T6 alloy but require high resistance to stress corrosion cracking, such as aircraft and missile parts – the fatigue performance of landing gear hydraulic cylinders and extrusions is roughly the same as 7075- Equal to T6 alloy, but slightly higher toughness
7050 Plates, extrusions, free forgings and die forgings for aircraft structural parts. The requirements for the alloy to manufacture such parts are: high resistance to exfoliation corrosion, stress corrosion cracking, fracture toughness and fatigue resistance
7072 Air conditioner aluminum foil and ultra-thin strip; 2219, 3003, 3004, 5050, 5052, 5154, 6061, 7075, 7475, 7178 alloy sheet and tube coating
7075 is used to manufacture aircraft structures and futures. He requires high-stress structural parts and mold manufacturing with high strength and strong corrosion resistance.
7175 is used to forge high-strength structures for aircraft. T736 material has good comprehensive properties, that is, high strength, resistance to exfoliation corrosion and stress corrosion cracking, fracture toughness, and high fatigue strength
7178 Parts requiring high compressive yield strength for the manufacture of aerospace vehicles
Aluminum-clad and unclad sheets for the 7475 fuselage, wing frames, stringers, etc. Other parts that have both high strength and high fracture toughness
7A04 Aircraft skins, screws, and stress components such as girder stringers, bulkheads, ribs, landing gear, etc.