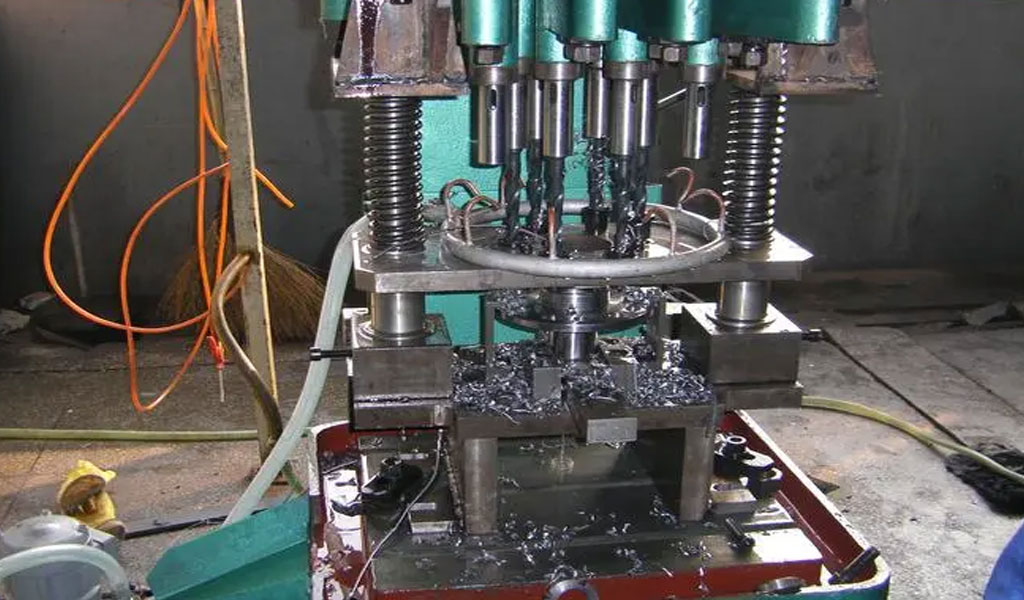 The multi-axis CNC machining technology specialisation mainly cultivates highly skilled personnel who can master the drawing, process analysis, structural design and machining of parts, skillfully apply modern production and machining equipment to complete the manufacture, installation and commissioning of mechanical equipment, and specialise in the application and production management of high-grade, precise and advanced multi-axis CNC equipment such as five-axis linked machining centres and nine-axis five-axis linked turning and milling complex machining centres. Graduates should have good professional ethics, independent learning ability and teamwork spirit, master MasterCAM software to prepare two-dimensional and three-dimensional parts of the CNC machining program, can use UG software for product modelling, skilled use of UG software to prepare parts of the machining program, skilled in the use of precision measuring equipment and maintenance.
Main courses: mechanical drawing and computer drafting, tolerance fit and measurement, computer-aided design and manufacturing (CAD/CAM), multi-axis machining centre programming and operation, product inspection and quality control, CNC technology and programming, metal cutting and tools, CAXA CNC turning, heat treatment of metal materials, basic machinery manufacturing process, etc.
Multi-axis machining should be accurately described as multi-coordinate linkage machining. Most of the current control machining equipment can achieve up to five coordinate linkage, this type of equipment, many types of structure and control systems are different. CNC machining technology, as the basis of modern mechanical manufacturing technology, has led to significant changes in the mechanical manufacturing process. Titanium Ho Machinery is the mainstay of our company with rotary centers, screws, shaft machining, CNC lathe machining, tool holders and collet joints! Modern CNC machining technology compared with traditional machining technology, whether in the machining process, machining process control, or machining equipment and process equipment and many other aspects are significantly different. We are familiar with CNC machine tools have three linear axes XYZ, multi-axis refers to a machine tool with at least the fourth axis. Usually referred to as multi-axis CNC machining refers to more than 4 axes of CNC machining, which is representative of the 5-axis CNC machining.
With the development of CNC technology, multi axis CNC machining centres are being used more and more extensively. Their biggest advantage is that they make the machining of complex parts much easier, and shorten the machining cycle and improve the quality of the surface machining. The improvement of product quality on product performance requirements, such as lamp moulds, automotive headlamp moulds finishing: with double rotary table five-axis machine tool machining, due to the special optical effect of the headlamp moulds requirements, for reflecting the many small curved surface machining accuracy and finish are very high index requirements, especially the finish, almost required to achieve the mirror effect. The use of high-speed cutting process equipment and five-axis linkage machine tools with ball milling cutter cutting out of the mirror effect, it becomes very easy, and the more backward means of machining technology in the past is almost impossible to achieve.
The use of five-axis linkage machine tools to process moulds can be completed very quickly, fast delivery, to better ensure the quality of the mould machining, so that mould machining becomes easier, and make mould modifications become easy. In traditional mould machining, a vertical machining centre is generally used to complete the milling of the workpiece. As mould manufacturing technology continues to develop, some of the weaknesses of the vertical machining centre itself are becoming more and more apparent. Modern mould machining commonly uses ball milling cutters to process, ball milling cutters in mould machining bring benefits very obvious, but if the vertical machining centre, its bottom surface linear speed is zero, so the bottom surface finish is very poor, if the use of four, five-axis machine tool machining technology to process mould, can overcome the above deficiencies.